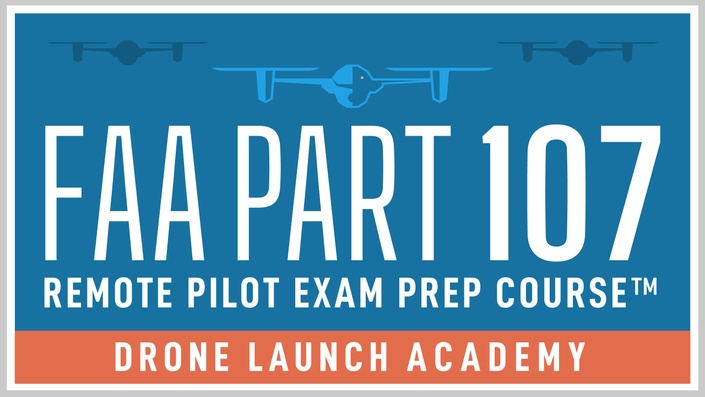 FAA Part 107 Remote Pilot Exam Prep Course
Pass The First Time or We'll Give Your Money Back AND Reimburse Your Testing Center Fees.
Our students have a 99.54% Pass Rate
We've helped over 20,000 people just like you pass their FAA Remote Pilot Exam.
What You Get When You Purchase Our Part 107 Exam Study Course...
HD Video Lectures from Experts (Certified Flight Instructors, Attorneys, Meteorologists)
Mini Quizzes at End of Each Lesson (300+ Practice Questions)
Real Life FAA Practice Exam Simulation (just like test day!)
The ONLY Prep Course that Offers Weekly LIVE Office Hours with a Certified Flight Instructor
7 Days to Certified Guide (Pass Your Test in Only 7 Days!)
Mobile Friendly Study Platform
FREE Bonuses with Purchase...
Part 107 Flashcard App (normally $39... included)
100+ Page E-Book Study Guide (normally $39... included)
8-hour Audiobook Study Guide (normally $49... included)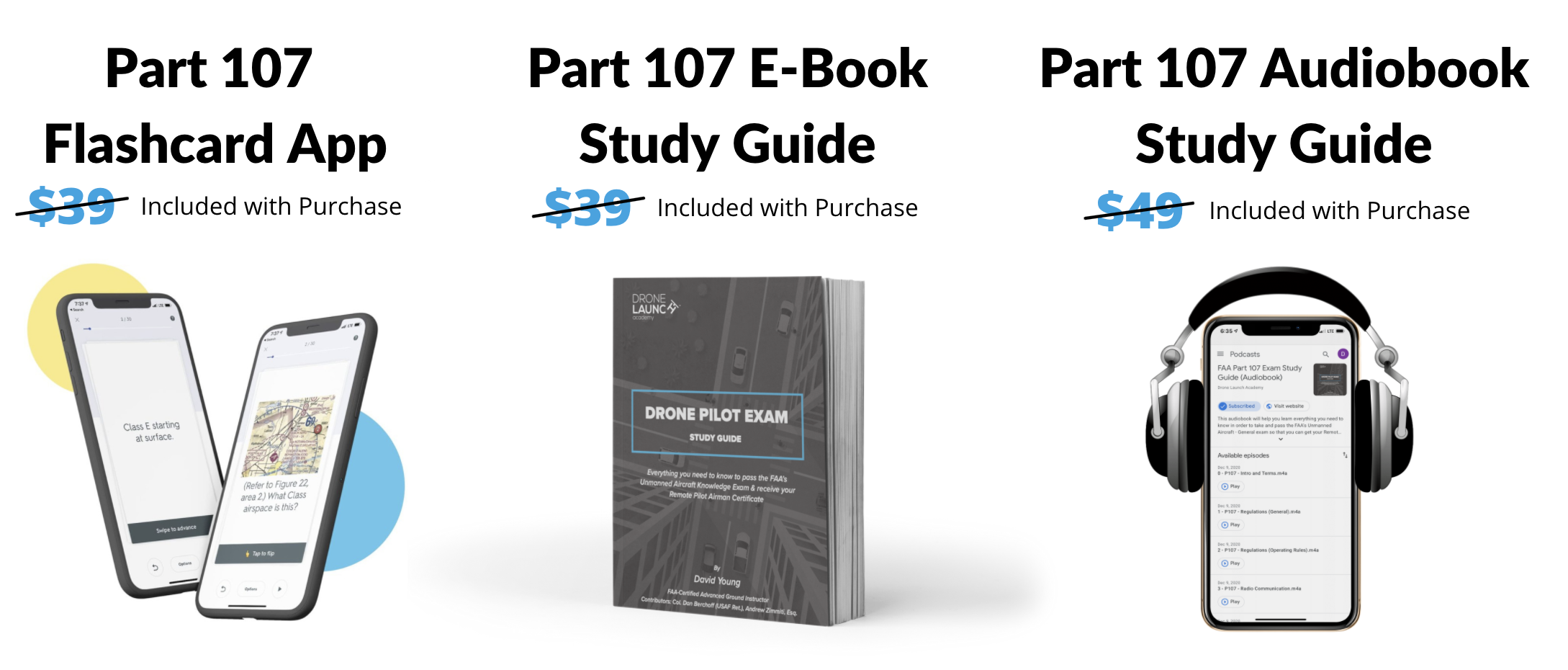 Pass Your Drone Exam in Only 7 Days!
With Drone Launch Academy's 7 Days To Certified™ guide, you can go from total newbie to Certified Drone Pilot in only seven days.
In this guide, we give you daily assignments and show you the exact lessons, practice quizzes, and course material you need to complete in order to pass your exam in 7 days or less.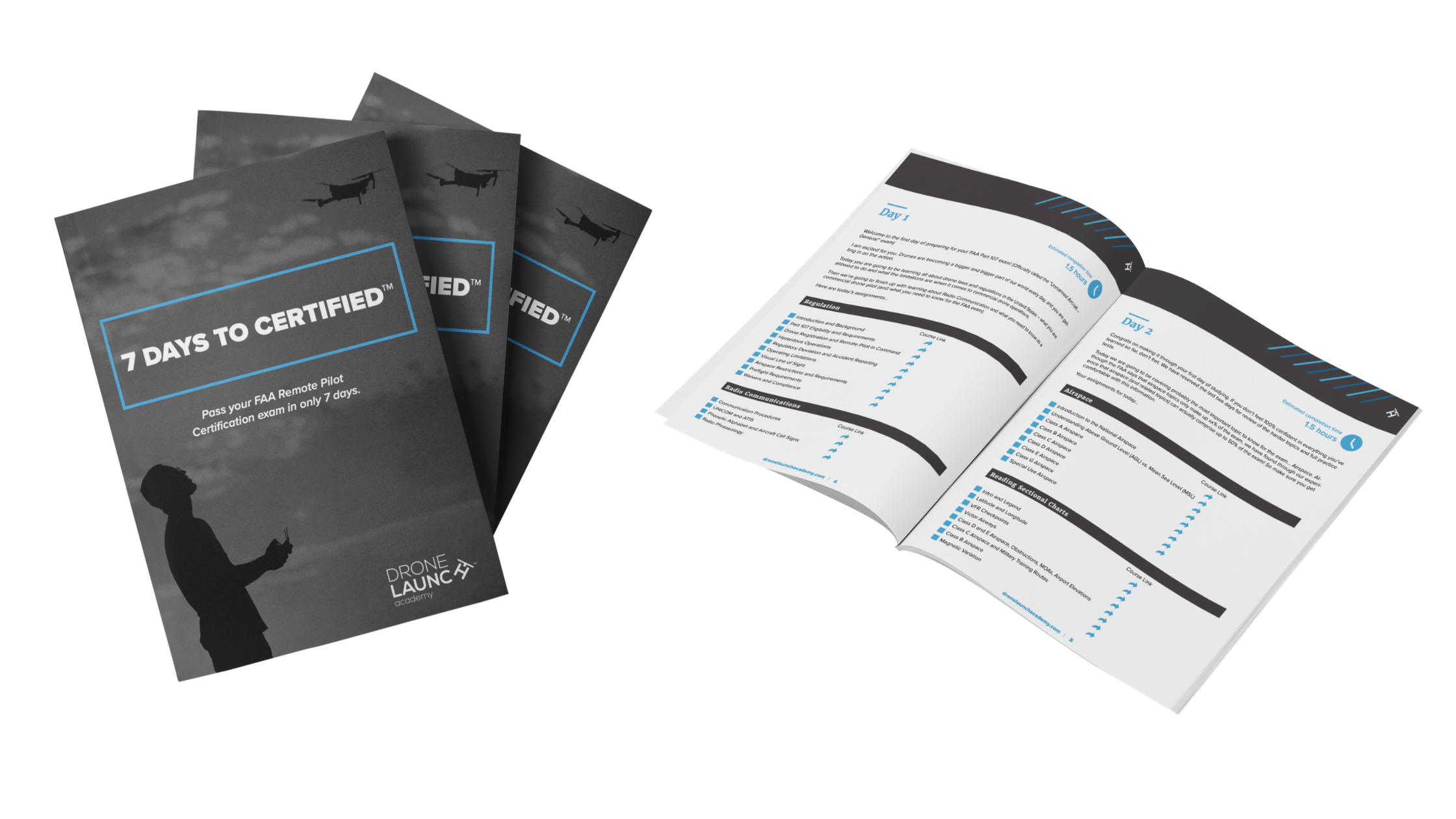 Don't think passing your exam within 7 days is possible?
Hear from some of our students who have done it!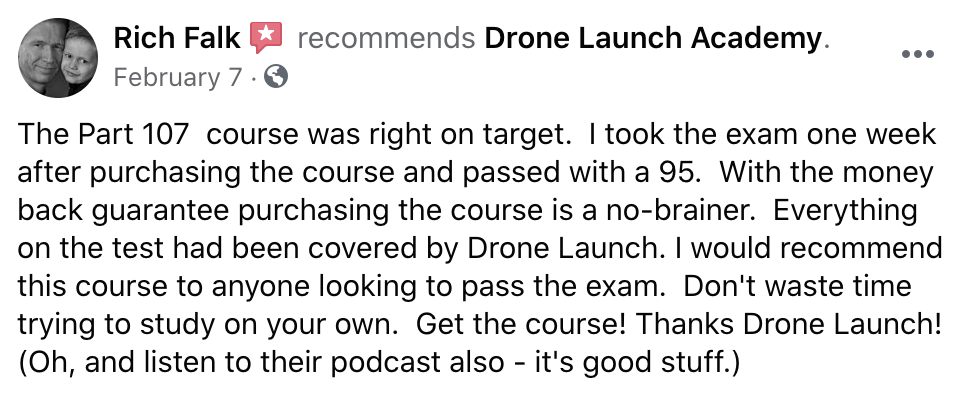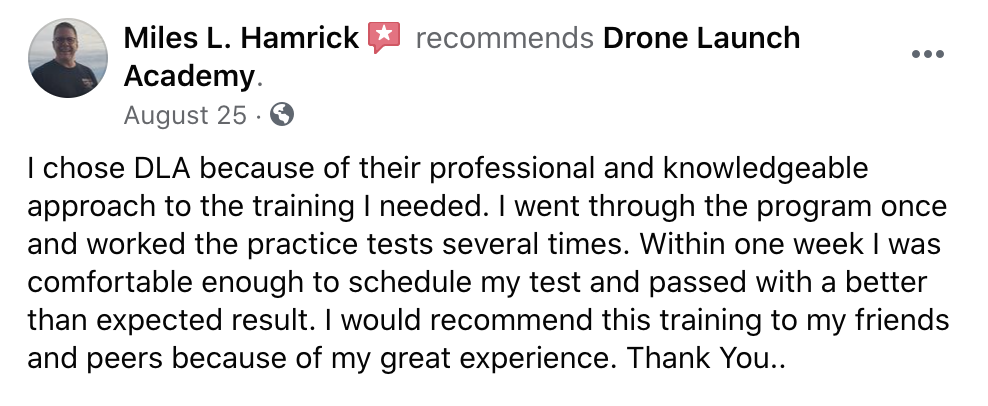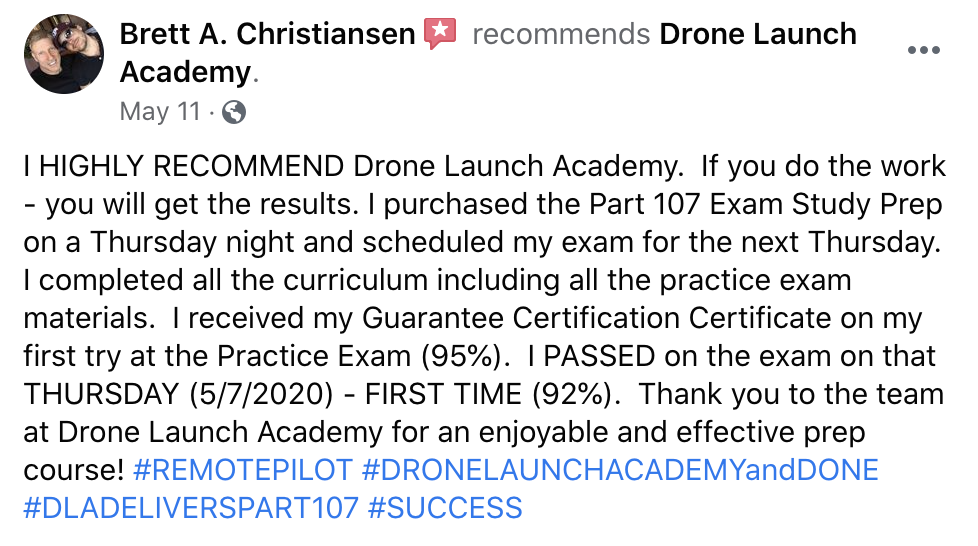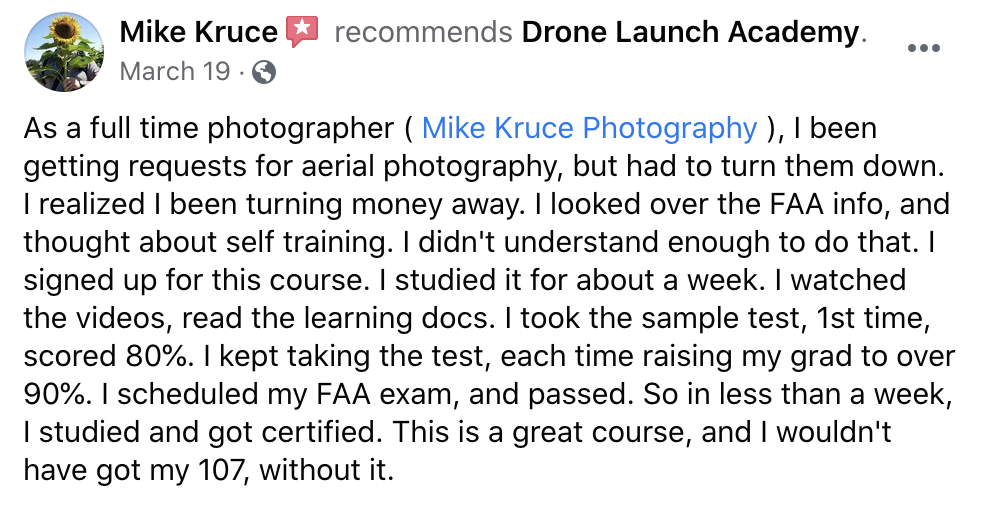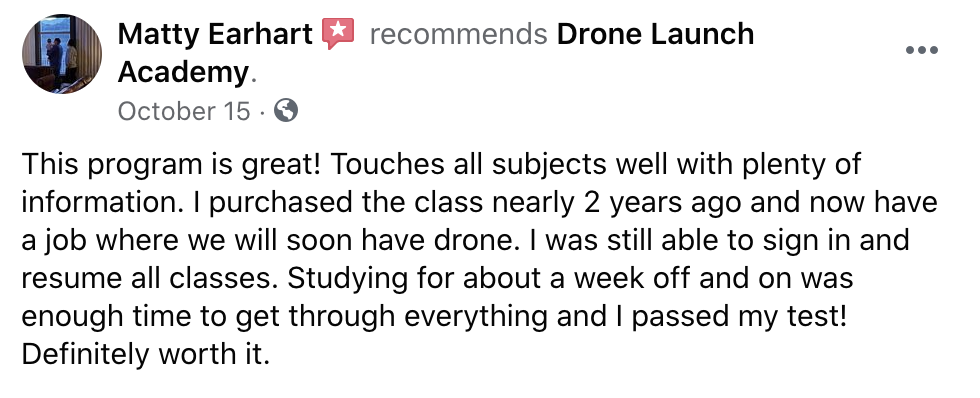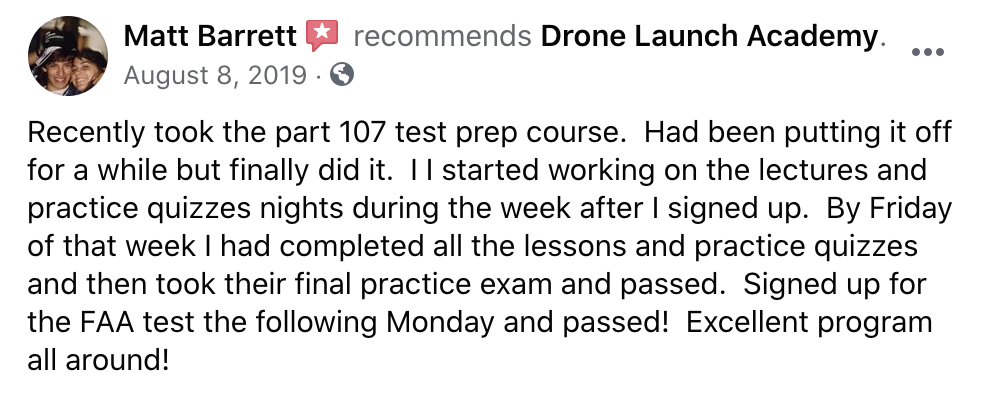 How We Stack Up to the Competition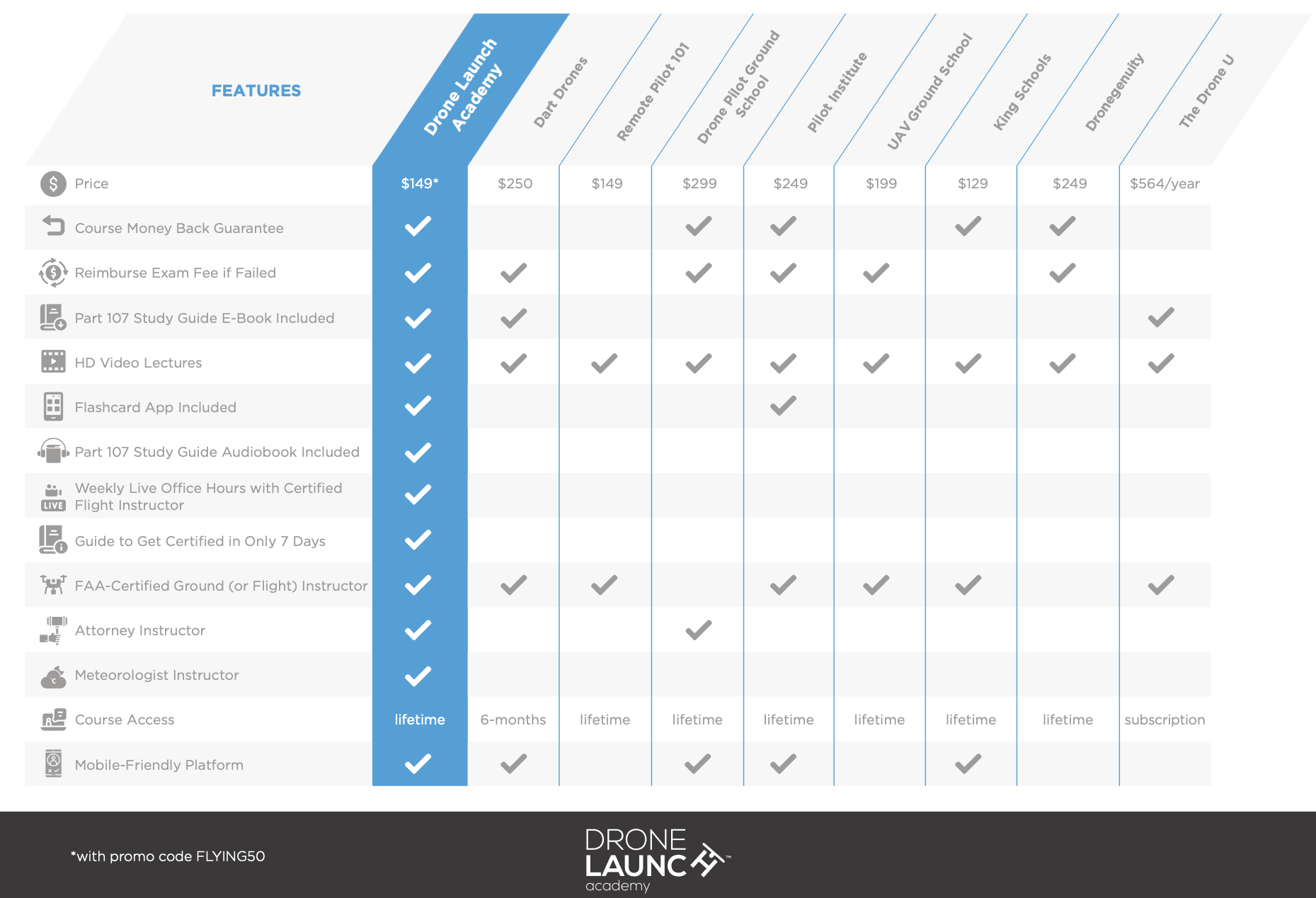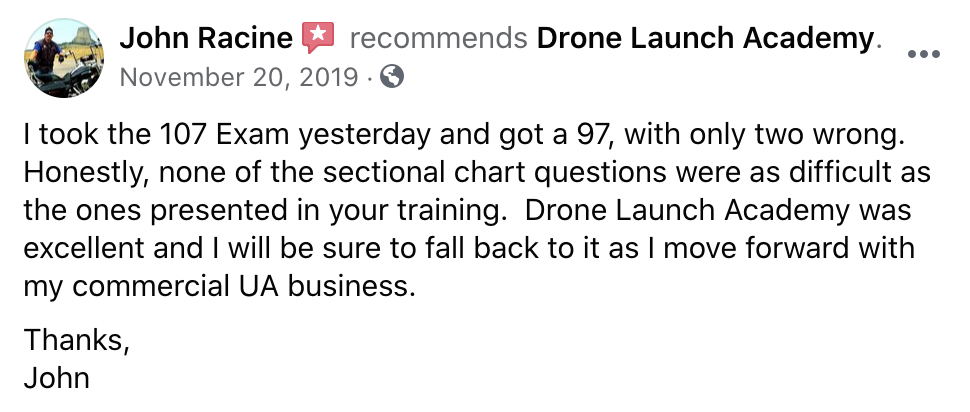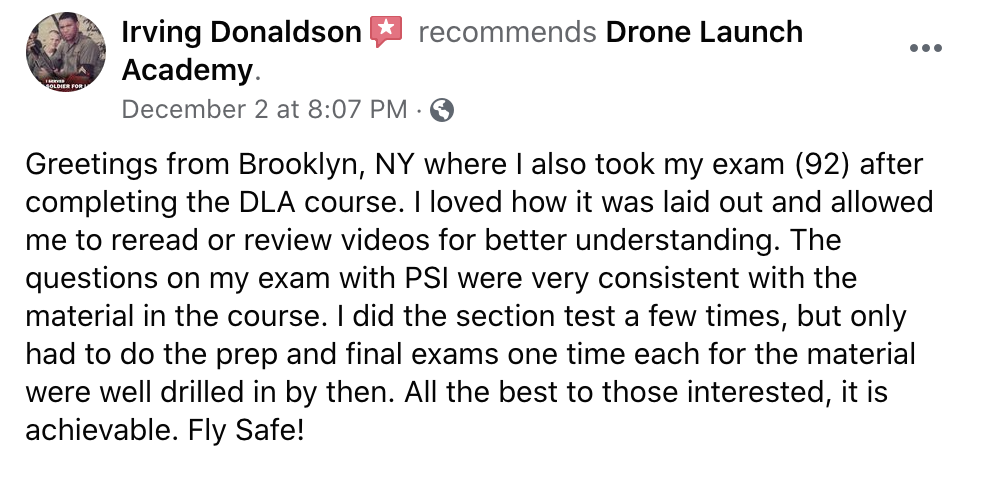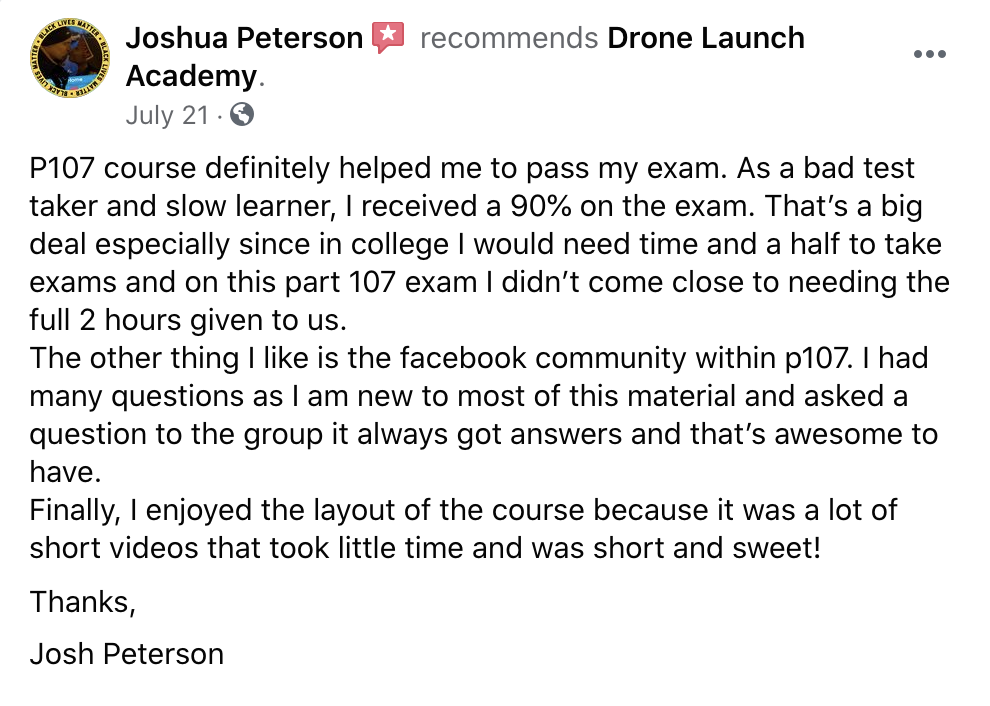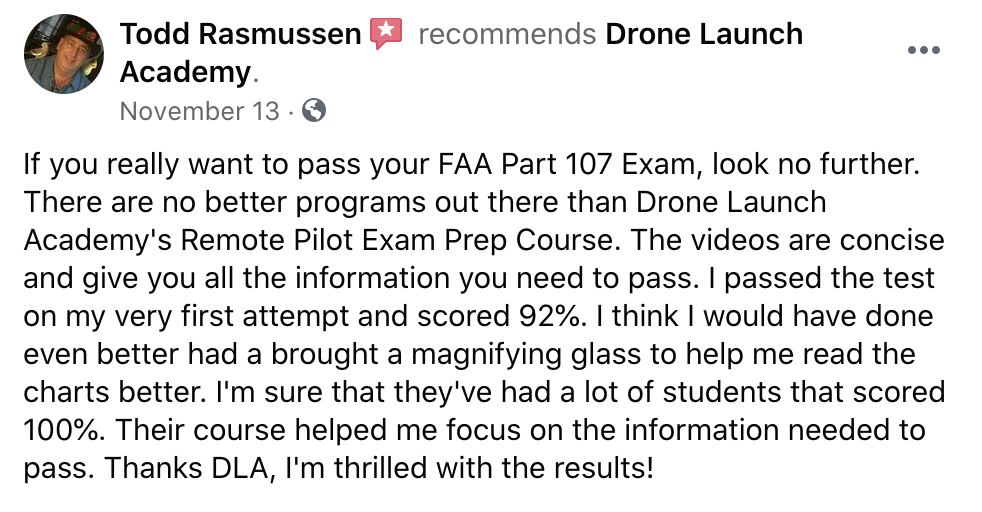 The ONLY Course to Give Students Access to Live Office Hours Every Week!
Join Certified Flight Instructor (CFI) Josh Howard each week and ask ANY question you have about the study materials.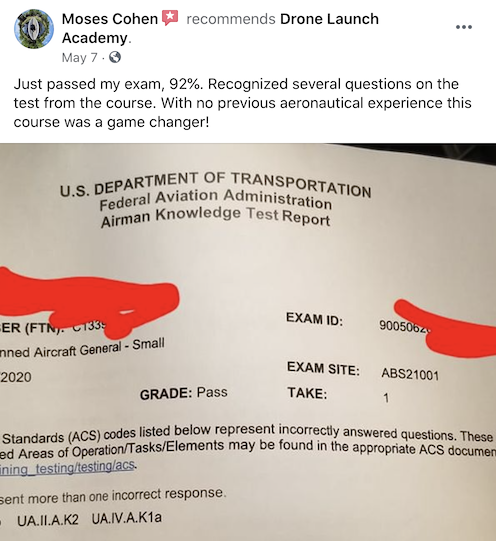 Taught by World Class Course Instructors
David Young, Chief Instructor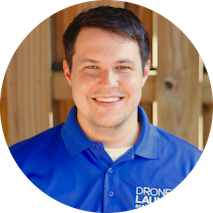 David is the founder of Drone Launch Academy. He is an FAA-Certified Advanced Ground Instructor, which means he has been tested and certified by the FAA to prepare students for FAA knowledge exams, such as the Unmanned Aircraft knowledge exam. Mr. Young is also an FAA-Certified Remote Pilot and has had his Private Pilot Certificate for nearly a decade.


Andrew Zimmitti, Regulation Instructor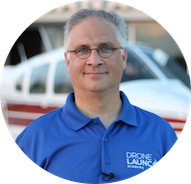 Andrew Zimmitti is a partner at the prestigious law firm, Manatt, Phelps, and Phillips, LLP, located in Washington, DC. Mr. Zimmitti has been practicing law for over 20 years, and is well versed in aviation and drone law. Combining his experience as an FAA-Certified Private Pilot and career in the Navy and top-tier law firms, Andrew assists clients in navigating the regulatory environment of UAV operations.
Col. Don Berchoff (USAF Ret.), Weather Instructor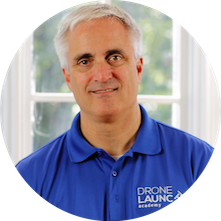 Don Berchoff is a retired Air Force Colonel who was once the Chief of Weather Programs for the entire United States Air Force. After completing his service with the Air Force, Col. Berchoff became the Director of Science and Technology at the National Weather Service. Don also was the Base Commander at the Air Force base in Manas, Kyrgyzstan, where he led 1,500 coalition forces. Don is currently the CEO of TruWeather Solutions.
Maj. Nathan Green (USAF Ret.), Weather Instructor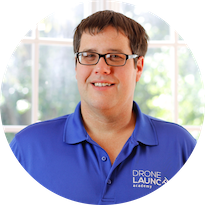 Nathan was a Major in the United States Air Force, where he led weather operations for Air Force One and the Air Force Chief of Staff. Maj. Green was a meteorologist and weather forecaster for military UAV operations in Iraq and Afghanistan. After retiring from the Air Force, Nathan contributed to the FAA's NEXGEN weather program which is instrumental in enhancing future passenger airline safety and reducing system-wide weather delays.
To read more about our instructors, visit our About Us page.
Frequently Asked Questions
How does the Drone Launch Pass Guarantee Work?
We are so confident that you'll crush your Part 107 exam after completing our course, if you successfully complete our course and pass your final practice exam with an 80% or higher, but fail your FAA exam, just complete our form at dronelaunchacademy.com/107refund and we will give you a full course refund AND send you a reimbursement for your testing center fees.
How long do I have access to the course?
How does lifetime access sound? After enrolling, you have unlimited access to this course for as long as you like - across any and all devices you own.
Is this course 100% online? Or is there an in-person component as well?
This course is 100% online and is 100% self-paced. So you can access it from anywhere, any time, and go as fast or as slow as you'd like!
How do I know if I need to get my Remote Pilot Certificate (aka Drone License)?
The FAA regulations state that if you plan on flying an unmanned aerial vehicle (... a drone) for any purpose other than for fun or recreation, then you need to hold a valid Remote Pilot Certificate. You get that certificate by passing the FAA's "Unmanned Aircraft - General" exam, which is commonly referred to as the Part 107 exam. So if you are a real estate agent and are taking pictures of your listings, you need your Remote Pilot Certificate. If you're an engineer and are flying drones to survey your work, you'd need it. If you're a farmer and you're analyzing your crops with drones, you'd need it. If you work for a pool construction company and you are making fly over videos to showcase your work for marketing videos, you need it. (I think you catch the drift.) If you're not flying purely for fun or recreation, you need it.
How often is the course updated?
Our team periodically takes the Part 107 exam to make sure that the questions on the real exam are similar (or the same) to the questions that we have inside of our prep course. Also, students are great about notifying us if they see anything unfamiliar on the exam. We have a dedicated team that constantly works to add new questions to the practice test bank and add additional instruction to the course. So the short answer is... we are constantly updating it to make sure you're 100% covered.
How About Even MORE Results From Our Students...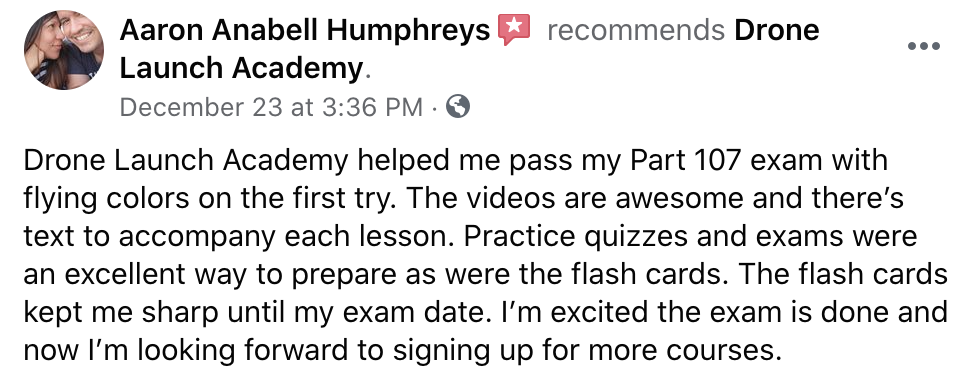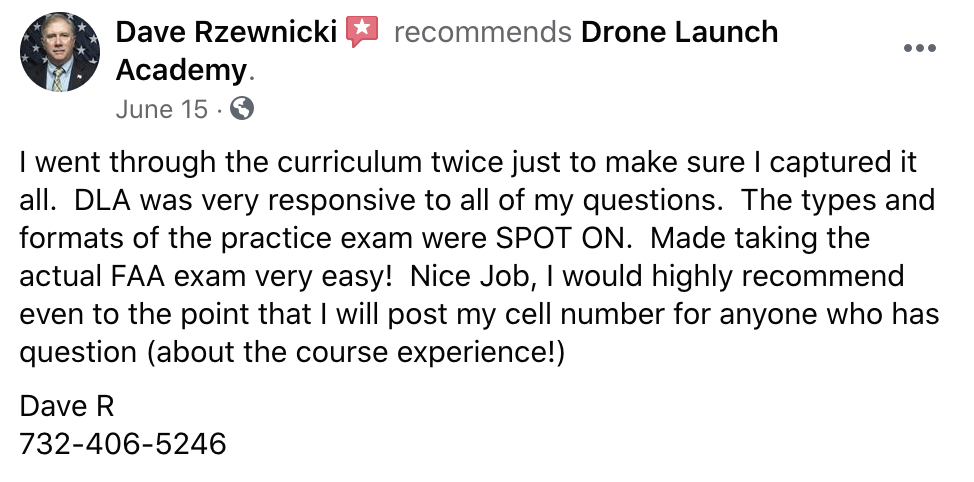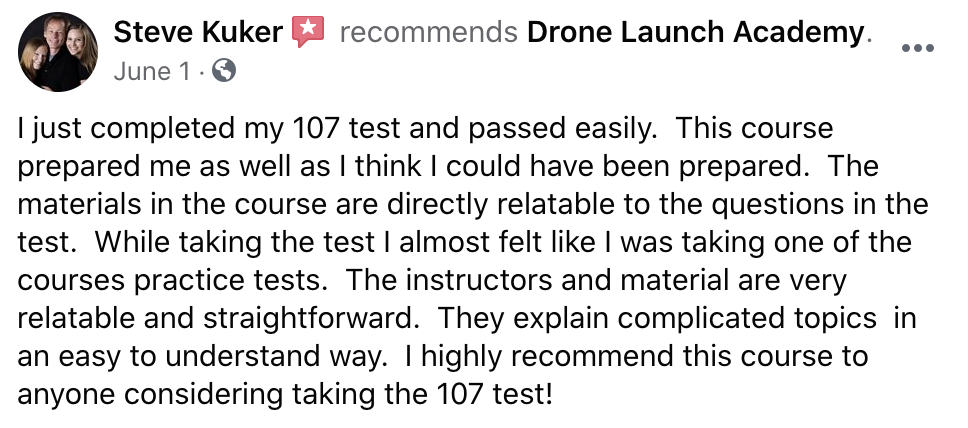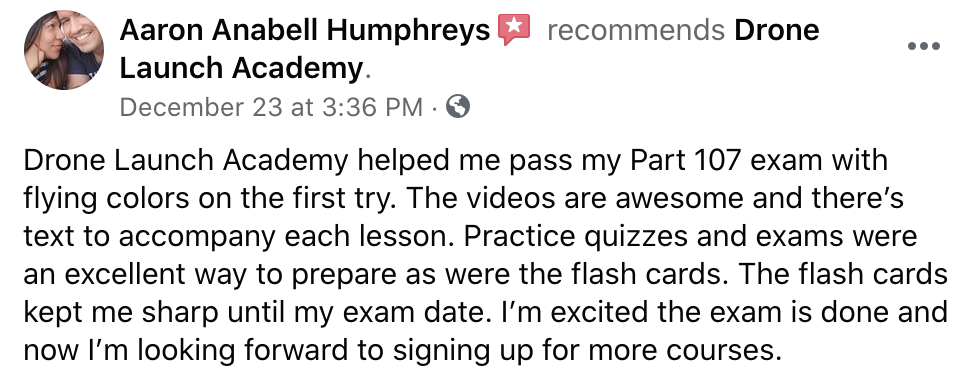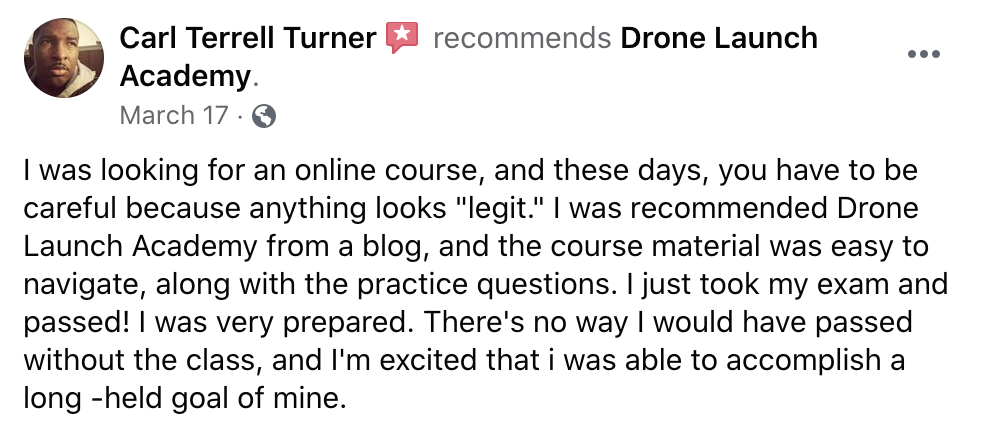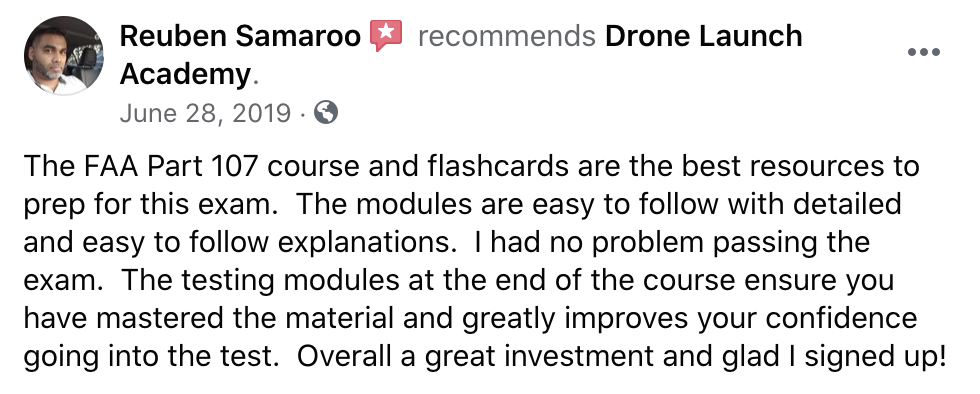 Click down arrow to expand course curriculum.
*Important Information About Our Drone Launch Pass Guarantee*
In order to qualify for the Drone Launch Pass Guarantee, before attempting the Unmanned Aircraft knowledge exam you must have:
Completed all modules in the course and
Received a Drone Launch Academy Certificate of Completion, obtained by achieving a passing score (80% or better) on one of the Final Exams. You must also have scored an 80% or higher on one of our practice Final Exams within 7 days before taking your FAA unmanned aircraft knowledge exam.
In the unfortunate event that you do fail your Unmanned Aircraft knowledge exam, please complete the refund form at dronelaunchacademy.com/107refund to receive your course refund and your exam registration fee credit.
You need to submit your refund request within 90 days of taking your Unmanned Aircraft knowledge exam.

Disclaimer: Individual results may vary.
Contact Information
If you have any questions, feel free to reach out to us by phone at 888-820-7205, or shoot us an email at [email protected].
We love talking to people, so get in touch!