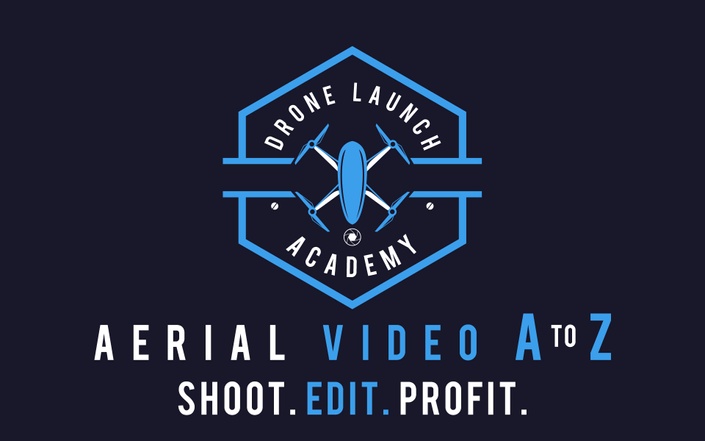 Aerial Video A to Z
The Ultimate Guide to Shooting, Editing, and Profiting from Epic Aerial Video
Enroll in Course
What Others Are Saying...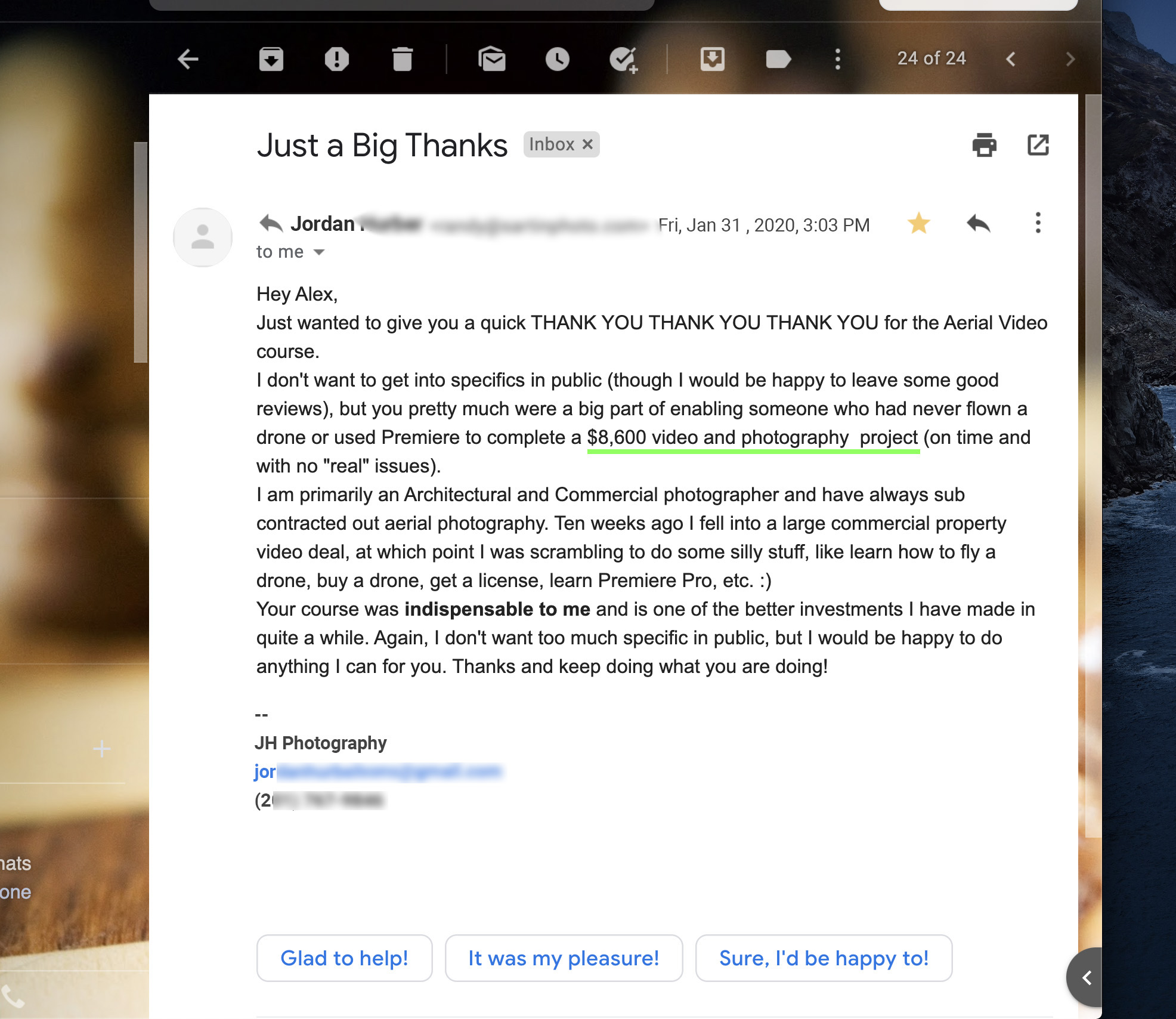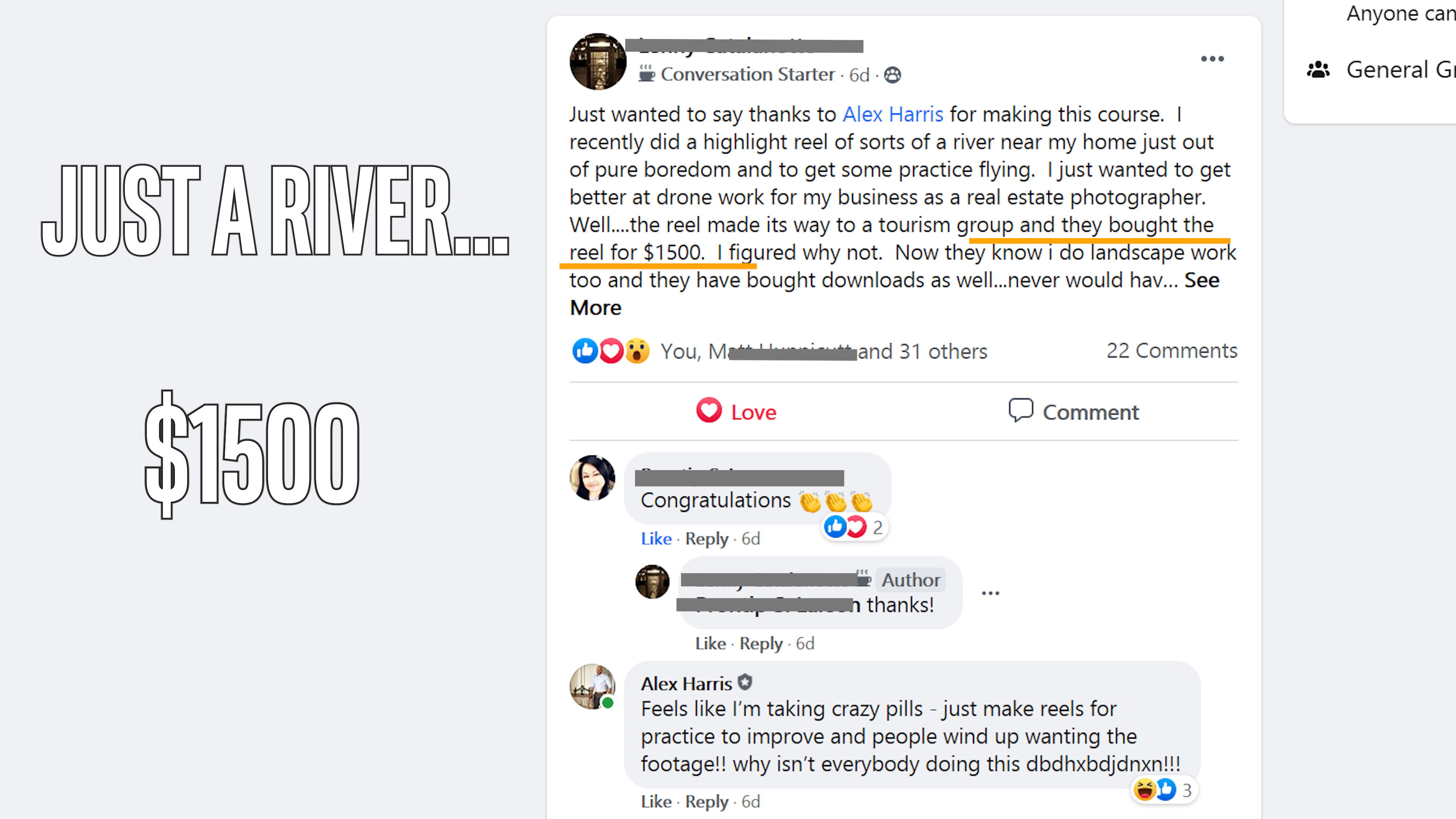 ---
AVAZ is an online course that's designed to be your final source to learn Drone Videography - filming, flying, and editing, then how to get views and market.

Why Should I Sign Up?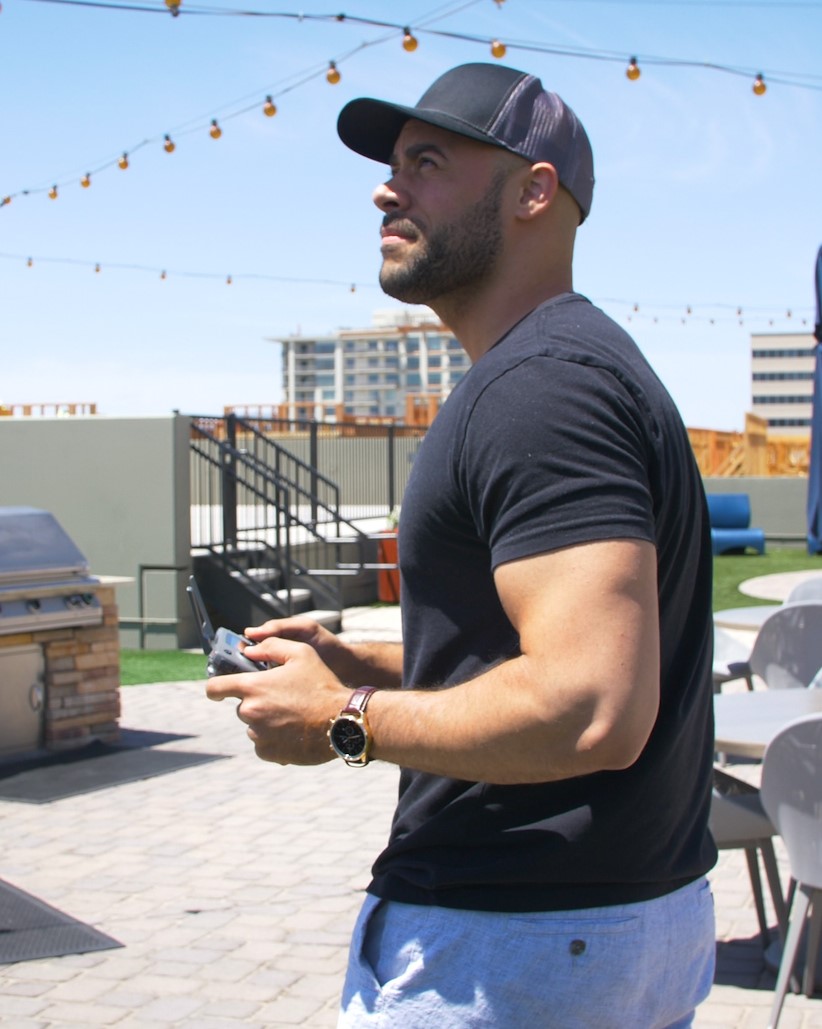 Lessons are result driven, showing real world applications.
Courses are dynamic. When new drones, software, techniques, and equipment come out, AVAZ is updated with tried and true methods. Save yourself the time and maximize your drone's potential.
Community Facebook Group where you can discuss drones, share your work, post questions, find out how other people make money and handle job types, or just talk about anything related to aerial video.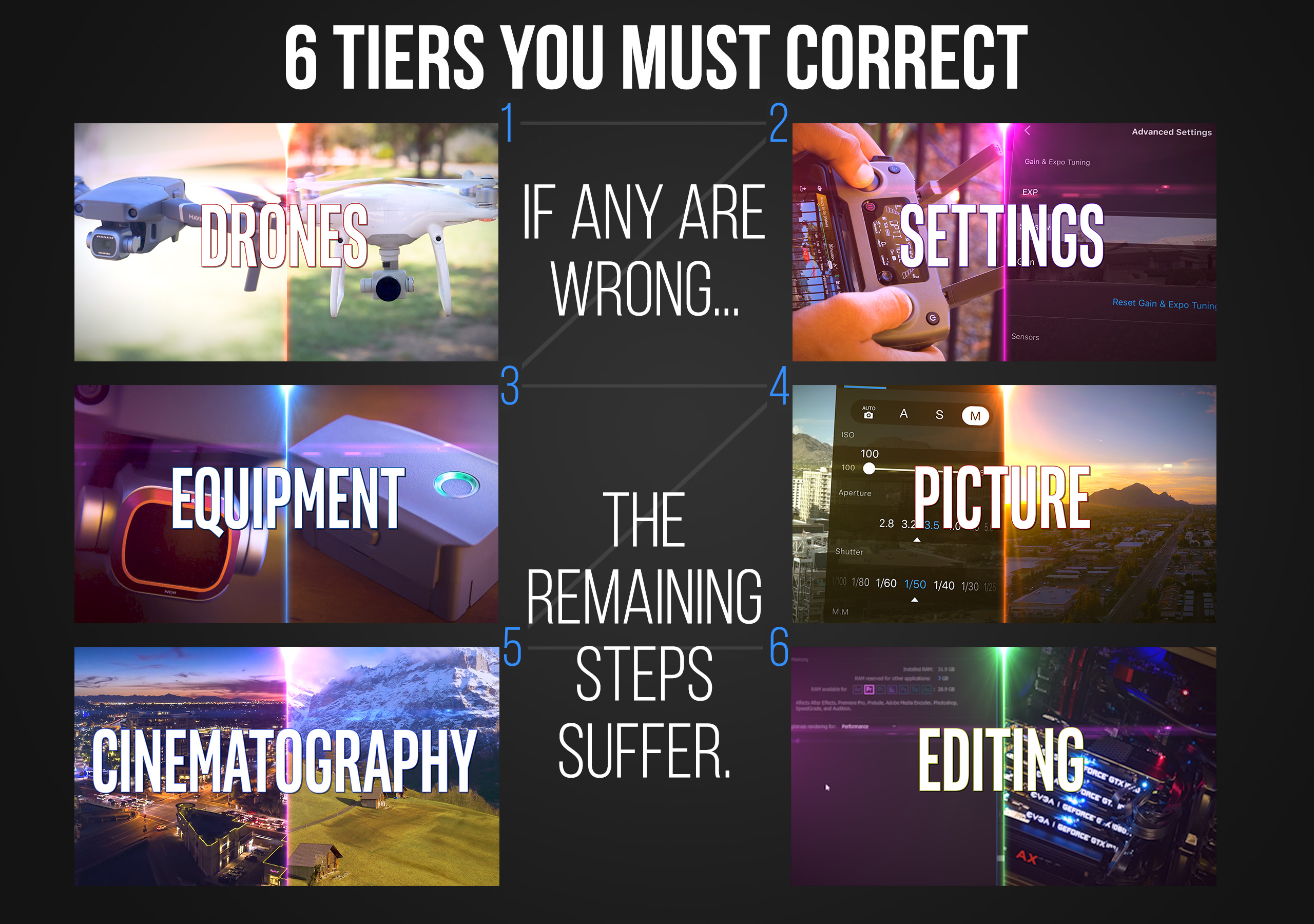 Recent Extras I've Added:
Final Cut X Support - 75+ Minutes worth. Use Final Cut OR

Adobe Premiere Pro to follow along the course, now I feature both

Social Media Templates for split frame and tall video
Color Presets for most recent models in Premiere Pro
Model-Focused Sections - chapters focused on Air 3, Mini 4 Pro, Mini 3, Mavic 3 models, Air 2S
My Editor's Kit of Effects, Presets, Titles and Transitions (20 light leaks, 20 flares, 15 Animated Titles, 4 Text blocks, 4 Cinematic Titles, Voice Enhancement/Compression preset you hear me using on narration, ) just drag and drop your footage in Premiere Pro only sry
4K/5K Footage

to download and practice, as well the footage I use in the lessons for you to match

Private Facebook group for a community to post, discuss, and ask for feedback
Hyperlapse on any DJI Drone tutorial/download added
Support from me - email, screenshare, facebook group - whatever to help if you're stuck
My Smooth flying settings for each drone in their section
80 minutes of Business/Marketing added
Top to bottom - Shoot to Edit live walkthrough making a video in my city (Aerial Video Apprentice)
Check out the Course Curriculum below
Your complete guide to shooting, editing, and profiting from epic aerial video (even if you're just a beginner).

Here are a few screenshots from the course...

In Aerial Video A to Z you'll learn...
What type of equipment (computers, software, drones) you do AND don't need;

How to tweak the settings on your drone to capture the best looking picture (we cover all of the most popular DJI models and give you applicable advice, even if you have a different drone);

The basic of video: resolution, frame rate, the difference between .mp4 and .mov file formats and when is best to use each;

Pre-flight planning and how to avoid amateur mistakes;

Flying, filming, and cinematography - teaching you what to aim for and how to capture those super smooth drone shots;

How to CORRECTLY film slow motion footage;

Step-by-step walkthroughs of the editing software, so you know EXACTLY what to do and where to go (so it's not overwhelming);

Pro tricks for speeding up the editing process and workarounds for dealing with 4k footage (note: 4k footage traditionally takes a LONG time to work with since its so big…but we have a shortcut);

Advanced editing techniques like...

How to arrange your footage to be the most visually appealing and keep viewers engaged;

How to fix shots when something ugly is in the corner of your frame;

How to fix shaky footage so it's still usable;

The right way to put in titles, logos, and other graphic items;

How to go from flat and bland footage to video that pops with the perfect color balance;

Salvaging footage that is too bright (overexposed) or too dark (underexposed);

Adding music - where to find it, how to line it up with your video for maximum impact; and

How to export your work so that its shareable but still maintains great quality.
---
AND, as an added bonus...
We included a COMPLETE job shadow walkthrough where I take you along a live shoot so you can see my workflow from start to finish.
(Flying, filming, editing, color correcting, effects, exporting...the whole thing).
This way you can follow along and apply all of the steps you've learned throughout the course and practice them from start to finish.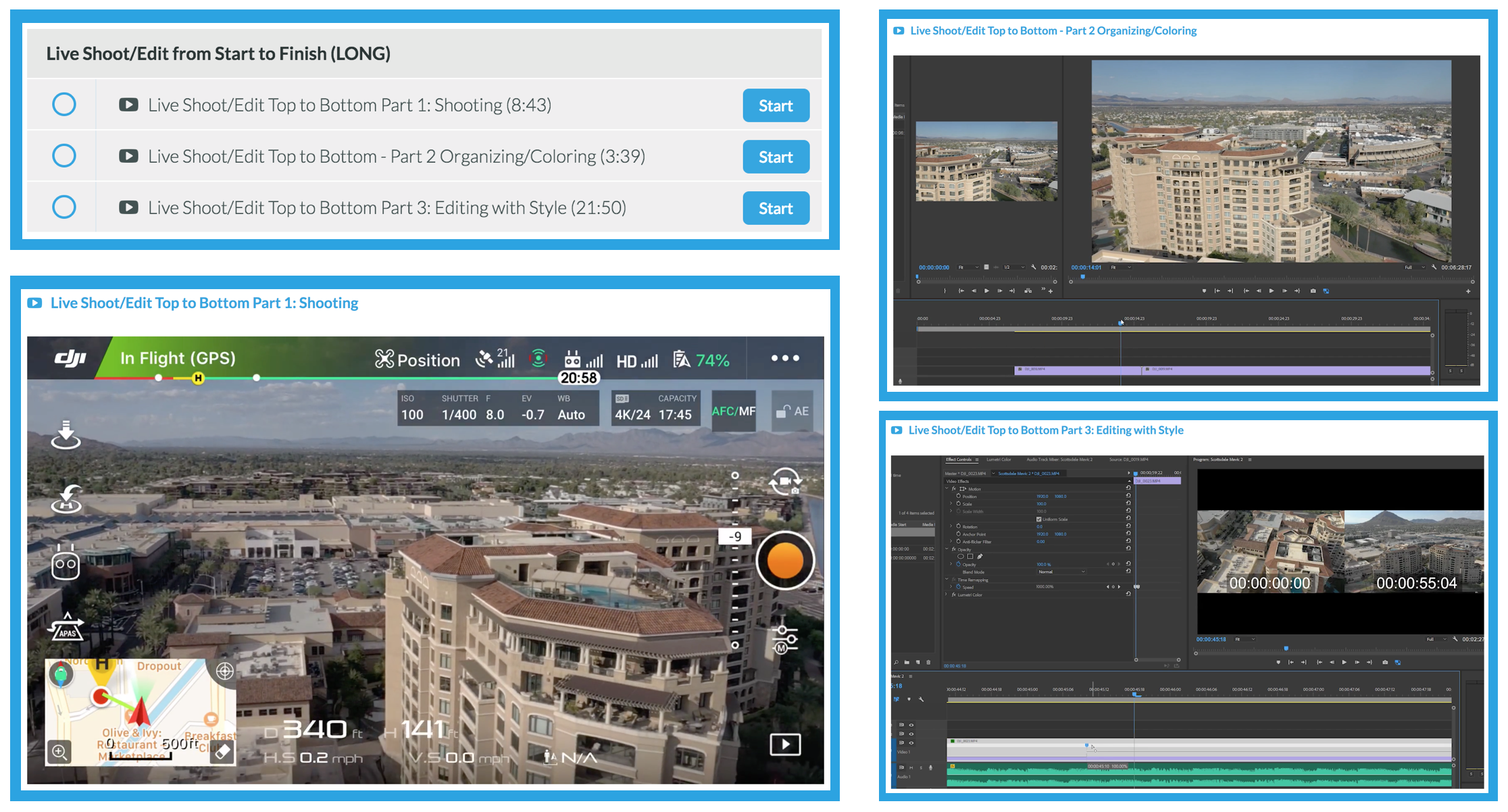 Course Curriculum
Basics of Video - Talk the Talk (yes you need to know this, you apply it all immediately)
Available in days
days after you enroll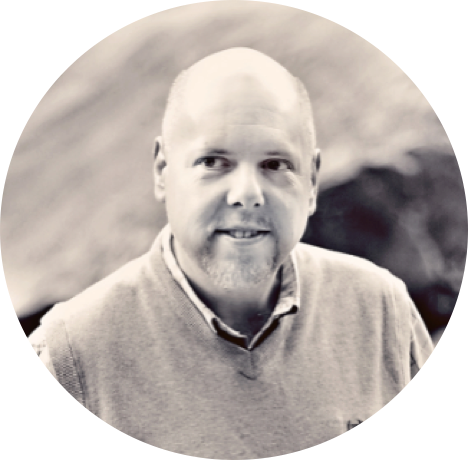 "In one weekend, I learned more about video editing than I thought possible...
...and I knew NOTHING about Premiere Pro - but now I can actually work with some extremely powerful software.
I really appreciated the walkthrough video at the end where he shows a video from start to finish.
This really is a nice finishing touch to summarize everything that was taught during the course!
I KNOW I'll be referencing this course again and again!
- Robert Nix
What's it all worth?
The goal with this course is to go overboard with value.
We know that people are being constantly sold to online.
We don't want to be just another noisy promotion that makes a ton of outrageous claims. But we do want to show you the value of what you'll get with you sign up for Aerial Video A to Z.
We've done our best to base the numbers below on REAL data and not just some arbitrary numbers that we made up to make it look more valuable than it really is.
---
What you'll get when you sign up for Aerial Video A to Z (and what it's worth)…
Lifetime access to all the modules with over 500+ minutes of video instruction for gear, settings, flying, filming, editing, color correcting, adding effects, mixing audio, and exporting at max quality...along with text guides ($797 value)
Effects Presets pack in Premiere Pro ($100 Value)
Color Presets pack in Premiere Pro ($40 Value)
100s of clips of 4k stock drone footage for you to work with throughout the course (note: 4k stock drone footage is selling for $100 or more per clip on the world's most popular stock footage site, Pond5 - see screenshot below. So this is actually a $7,100 value)
Unlimited email or facebook support from Alex and our team (Value = Priceless...jk) I wasn't going to try to put a number on this, but Alex bills his time out at $200 per hour. See screenshot below.
If you add that all up, it comes to over $8,037 worth of value that you are getting in this course.
(Again, I know that sounds pretty high, but we did our best to base these on REAL numbers.)

Your Instructor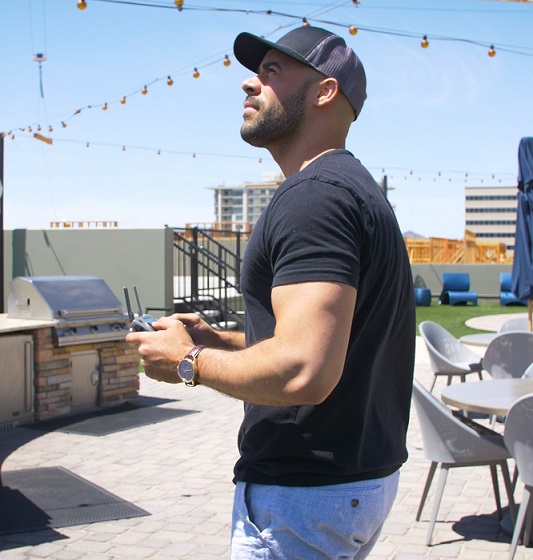 Licensed Drone Operator, flown in 11 countries. Award Winning Drone Photographer. Full-Time Video Editor/Animator and Camera operator for 12+ years. (Inspire 2 X5S, Mavic 3 Pro, Air 3, Minis)
We are so confident that you will be blown away by what you're getting with the course, that we've included a 30-day, no questions asked guarantee.

If you sign up, try out the course, and decide that it wasn't worth the price you paid, then just let us know and we will refund your money on the same day.
No hard feelings. No questions asked.
We literally want to take all the risk on this.
So go ahead and CLICK BELOW to sign up!